At present you can take in person classes and workshops with Aura at Balance Yoga Center, a beautiful studio located in Redding, Northern California.
In Person Weekly Schedule
Wednesday
6:00-7:00 AM PT
Wednesday
5:00-6:15 PM PT
Led Intro to Second Series
Led Half Primary Half Second Series
Yoga for Strength and Flexibility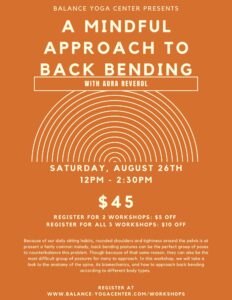 SAT
Aug, 26th
12:00-2:30 PM PT
A mindful approach to back bendings
Because of our daily excessive sitting habits rounded shoulders and tightness around the pelvis is at present a fairly common malady, back bending postures can be the perfect group of poses to counterbalance this problem, but because of the same reason they can also be the most difficult group of postures for many to approach. In this 2.5 hours workshop we will take a look to the anatomy of the spine and its biomechanics and how to approach back bending according to different body types, we will take a look to the most common back bending yoga postures in depth, with beginners to advance variations shown for each, drills and warm up sequences to get best out of them, and how to use props to support, expand and deepen your back bending practice disregarding of your level. Please come with an empty stomach (at least 4 hours after a full meal, or 2 hours after a light meal). I am looking forward to see you all!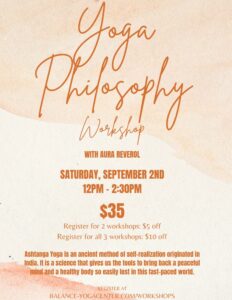 SAT
Sep, 2nd
12:00-2:30 PM PT
8 steps for a peaceful life
Ashtanga Yoga is an ancient method of self-realization originated in India. It is a science that gives us the tools to bring back a peaceful mind and a healthy body so easily lost in this fast-paced world.
Patanjali in his Yoga Sutras -the authoritative text for the philosophy of yoga- defined yoga as "the stillness of the fluctuations of the mind", and explained the eight steps necessary to reach this state, therefore the name Ashtanga Yoga -Ashto= eight -Anga= limbs-. In this workshop we will explore one by one each step and find practical application for daily life from these wonderful concepts.
1. Yamas -Social behavior, moral codes, how we relate to the external world.
Ahimsa -Non violence.
Satya -Truthfulness.
Asteya -Non stealing.
Brahmacharya -Sexual responsibility.
Aparigraha -Non attachment.
2. Niyamas -Self discipline, how we relate to ourselves.
Sauca -Cleanliness.
Santosha -Contentment.
Tapas -Heat and purification.
Svadhyaya -Study of Scriptures.
Ishvara pranidhana -Surrender to God.
3. Asanas -Physical posture
4. Pranayama -Breath control
5. Pratyahara -Control of the senses
6. Dharana -Concentration
7. Dhyana -Meditation
8. Samadhi -Permanent peace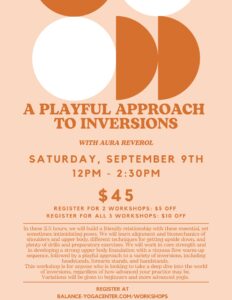 SAT
Sep, 9th
12:00-2:30 PM PT
A playful approach to Inversions
Inversions are some of the most beneficial yet sometimes most intimidating of all the asanas, in this 2 1/2 hours workshop I will help you build a friendly relationship with these essential poses. We will learn alignment and biomechanics of shoulders and upper body, different techniques for getting upside down, and plenty of drills and preparatory exercises. We will work in core strength and in developing a strong upper body foundation with a vinyasa flow warm-up sequence followed by a playful approach to a variety of inversions, including headstands, forearm stands, and handstands. This workshop is for anyone who is looking to take a deep dive into the world of inversions regardless of how advanced your practice may be. Variations will be given to beginners and more advanced yogis.
Yoga inversion workshop will include:
• Vinyasa warm-up.
• Demonstration of all poses.
• Hands-on assists to help students find individual appropriate variations.
• Tips and techniques on how to build strength and balance to achieve advanced yoga inversions.
I am looking forward to share with you all!!!
If you have any question please drop it right below 👇 We will be happy to help.